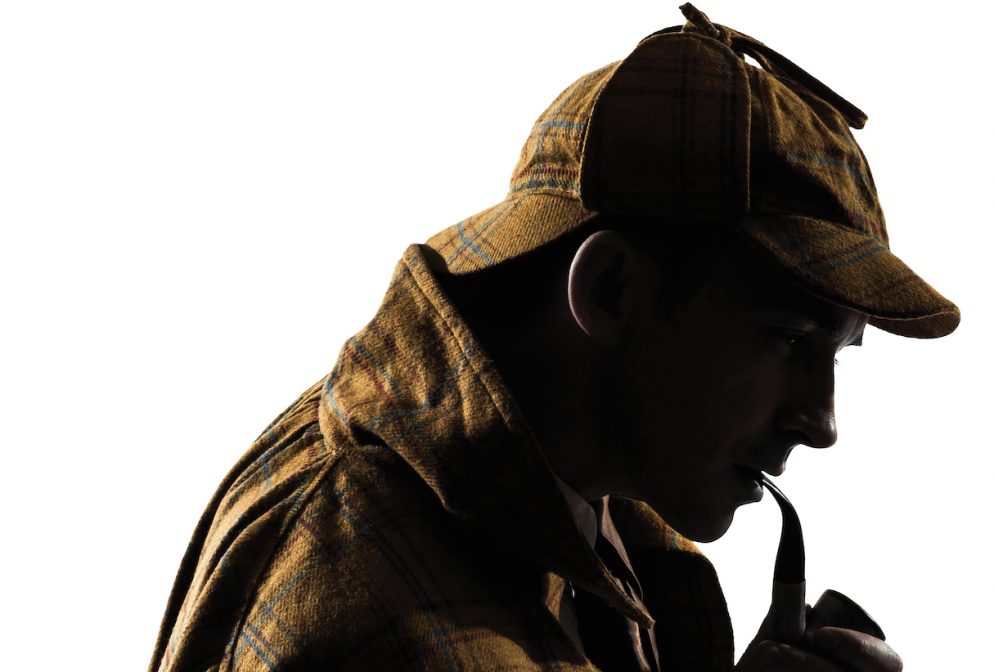 From The Memoirs Of Sherlock Holmes
6:8 "Then I heard the voice of my Lord saying, "Whom shall I send? Who
will go for us?" And I said, "HERE AM I: SEND ME." And He said,
"Go, say to that people:"

Holmes: So Isaiah has been selected to give a message to Israel, Watson.
6:13
"But while a tenth part yet remains in it, IT SHALL REPENT. It
shall be ravaged like the terebinth and the oak, of which STUMPS
are left even when they are felled: ITS STUMP SHALL BE A
HOLY SEED."
Holmes:
So Israel will be decimated but a few will survive
and repent and serve some holy purpose.
20:3
"…Just as My servant Isaiah"
Holmes:
Looks like you were right about Isaiah, Watson.
41:8
"But you, Israel, My servant,"
Holmes:
Okay, that's one Watson. Let's keep track of how many times Israel is called "servant".
41:9
"…To whom I said: You are My servant
;
Holmes:
Two.
42:1
"This is My servant, whom I uphold,
My chosen one, in whom I delight.
I have put My spirit upon him,
He shall teach the true way to the nations.
He shall not cry out or shout aloud,"
Holmes:
Three
42:6
"I the LORD, in My grace have summoned you,
And I have grasped you by the hand.
I created you, and appointed you
A COVENANT PEOPLE, A LIGHT OF NATIONS-
Opening eyes deprived of light,
"
Holmes:
It's clear that the servant described in 42:1 is Israel.
42:19
"Who is so blind as My servant, So deaf as the messenger I send?
Who is so blind as the chosen one, So blind as the servant of the LORD"
Holmes:
Four and five.
42:21
"The LORD desires His (servant's) vindication,
That he may magnify and glorify (His) Teaching."
Holmes:
This Isaiah chap seems to be saying Watson that a FORMERLY
sinful Israel will BECOME righteous and serve as a good example
for the nations.
43:10
"…My servant, whom I have chosen
."
Holmes:
Six
44:1
"But hear, now, O Jacob My servant,
Israel whom I have chosen!"
Holmes:
Seven
44:2
"…Fear not, My servant Jacob,
Jeshurun whom I have chosen,
"
Holmes:
Eight
44:21
"Remember these things, O Jacob
For you, O Israel, are My servant:
"
Holmes:
Nine
44:21
"…I fashioned you, you are My servant-
O Israel, never forget Me.
"
Holmes:
Ten
44:26
"But confirm the word of My servant
And fulfill the prediction of My messengers."
Holmes:
Eleven
45:4
"For the sake of My servant Jacob,
Israel My chosen one,
"
Holmes:
Twelve
48:16
"…And now the Lord God has sent me, endowed with His spirit"
Holmes:
It would seem Watson that Isaiah is the messenger or servant to
Israel.
48:21
"Say: "The LORD has redeemed His servant Jacob!"
Holmes:
Thirteen.
49:
…The LORD appointed me before I was born,
… And He said to me, "You are My servant, Israel in whom I glory"
… AND NOW THE LORD HAS RESOLVED-
HE WHO FORMED ME IN THE WOMB TO BE HIS
SERVANT-
TO BRING BACK JACOB TO HIMSELF,
THAT ISRAEL MAY BE RESTORED TO HIM.
AND I HAVE BEEN HONORED IN THE SIGHT OF THE
LORD,
MY GOD HAS BEEN MY STRENGTH.
FOR HE HAS SAID:
"IT IS TOO LITTLE THAT YOU SHOULD BE MY SERVANT
IN THAT I RAISE UP THE TRIBES OF JACOB
AND RESTORE THE SURVIVORS OF ISRAEL:
I WILL ALSO MAKE YOU A LIGHT OF NATIONS,
THAT MY SALVATION MAY REACH THE ENDS OF THE
EARTH."
Holmes:
Ahaah. So Isaiah is the servant to Israel and Israel is the servant to
the nations.
50:4
"The Lord GOD gave me a skilled tongue,
To know how to speak timely words to the weary."
Holmes:
Isaiah
50:10
"Who among you reveres the LORD
And heeds the voice of His servant?
Holmes:
Isaiah
52:13
"Indeed, My servant shall prosper,
"
Holmes:
Fourteen